Spinach Artichoke dip is one of the greatest food inventions. Ever. Period.
However, it can't be consumed in large quantities. Or with great frequency.
Especially not when your waistline is still recovering from the croissants and the crepes and the baguettes from your trip to Paris.
With Paris still on my mind, I started thinking about the fantastic foods we ate and I landed on quiche. My fiance's cousin made an absolutely fantastic traditional quiche lorraine for us while we were there, loaded with cream and cheese and ham and a buttery crust. I knew my tummy couldn't handle quite the same flavor bomb, but I thought I could lighten it up and mash it up with spinach artichoke dip.
And that's how spinach artichoke quiche came to be.
This quiche doesn't have a crust, which helps eliminate loads of calories right there, and is jam packed with spinach and artichokes, so the filling is more veggie than egg and cheese.
For this recipe you will need:
1 bag of spinach
1 can of artichoke hearts, drained
olive oil
salt
pepper
4 eggs
grated gruyere (I leave the amount to you)
parmesan cheese (again, I will never limit your cheese intake)
Preheat the oven to 375 and lightly butter a 9 inch pie pan.
In a large skillet, drizzle some olive oil and sautee the spinach and the artichokes. I just broke up the artichoke hearts into chunks with my hands. You can chop nicely if you wish.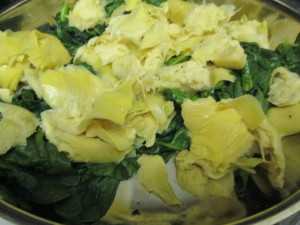 When the spinach is nice and wilted, season with salt and pepper and then transfer the mixture to the pie pan.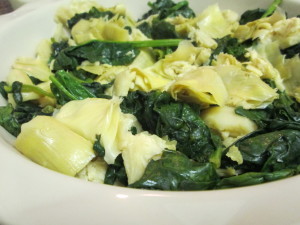 In a large bowl, crack four eggs and toss in the gruyere and the parmesan cheese.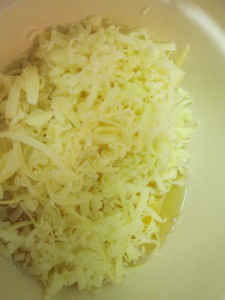 Using a fork, stir to combine.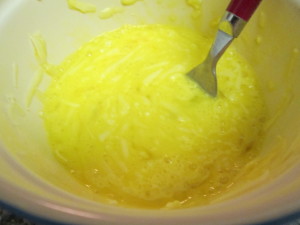 Pour the egg and cheese mixture over the spinach and artichokes and add a sprinkling of parmesan to the top.
Bake for about 30-40 minutes until the eggs are set.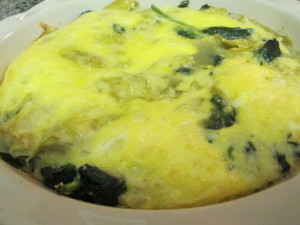 Slice it up and enjoy the mash-up of a quick Parisian meal with your favorite bar snack.