When we were in South Carolina earlier this year, we were sure to eat our weight in that good Southern food that just isn't quite the same above the Mason Dixon line.
With no trip to the South planned any time soon, though, and a craving for some shrimp and grits, we had a problem.
So, my husband and I put our heads, and our kitchen skills together, and tag teamed an awesome shrimp and grits dinner.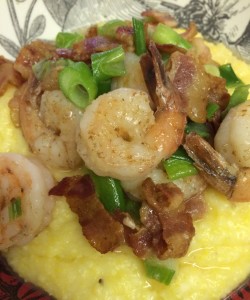 It's actually a fairly simple recipe that you can tweak to fit your craving or flavor profile.
We kept ours fairly classic with cheddar, bacon and scallions, but this could easily take an Italian turn with Parmesan and garlic, or have more of a Mexican flair with some green chiles and pepper jack cheese.
So for this recipe you will need:
1 cup grits (or polenta)
3 cups water
1 cup shredded sharp cheddar
3 slices bacon
1/2 pound shrimp (frozen works great. Cleaned, deveined, shell off, tail on)
scallions
Get started by preparing your grits according to package directions. Ours called for boiling 3 cups of water and then adding in the grits, stirring and leaving on the stove for twenty minutes with the lid on.
In the meantime, prepare your shrimp mixture. Start by placing your bacon, cut into small pieces, into a frying pan and cook until crispy.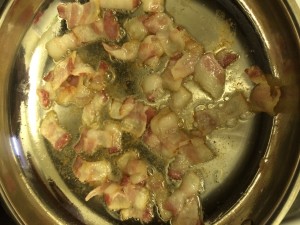 Remove the bacon from the skillet, but leave the grease. Place the shrimp into the bacon grease. Hey, this is a Southern dish. We're cooking with bacon grease y'all.
Cook the shrimp, turning to cook on both sides, until they are pink.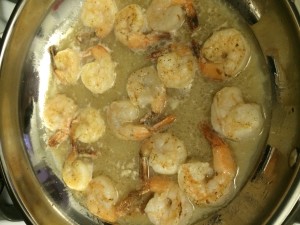 When the shrimp are cooked, add the bacon back in. Also add in your chopped scallions. Lower the heat and let everything warm through.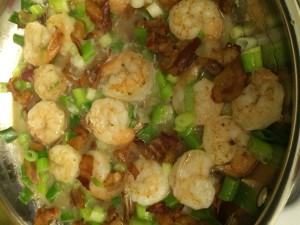 Meanwhile, add the shredded cheddar to your cooked grits and stir until it melts in.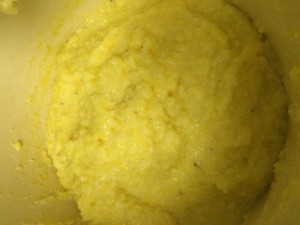 Serve up a a few big spoonfuls of grits in each bowl and top each with half the shrimp mixture.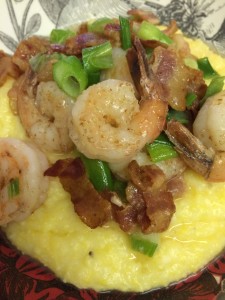 And there you have a five ingredient Southern Fix!