After an incredibly brutal winter filled with sub zero temps and lots of snow, New Yorkers were so ready for the 70 degree day we were graced with over the weekend.
Rooftops were crowded, tables were dragged out onto the small sidewalk spaces in front of restaurants and, yes, ice cream trucks abounded!
The first warm day is my favorite day in New York. Not just because the sun feels glorious after a long winter of my face being buffetted by wind (why is the West Side so much windier than the East, by the way?) but because of the beauty of watching the city emerge from its chrysalis.
Al fresco dining. Rooftop cocktails. Breezy dresses. And finally, lighter cuisine.
I love the comforting pots of soups and chilis in the winter, but I crave the bright, fresh flavors of spring.
This dish begs to be made on a sunny day when margaritas are the only logical choice of drink.
This recipe is great for those warmer days too as there is little time at the stove and few ingredients needed, so if, you know, some friends find out you have a rooftop and happen to be in the neighborhood, you can feed them. If you want to.
I made this for my husband and I but wound up with leftover rice for lunches for the week, which was my intent. So feel free to half the rice recipe if you don't want leftovers (but I don't know what kind of person you would be if you didn't want leftovers. Sorry no judging in this house)
For the rice:
2 cups rice (I used arborio because that's what I had, but you could use white or brown or whatever)
1 red onion, diced
2 cloves of garlic, minced
juice of 2  llimes
4 cups water
olive oil
Drizzle some olive oil in a high-sided skillet and toss in your onions and garlic. Cook for about 5 minutes or so on medium heat, stirring so garlic does not burn.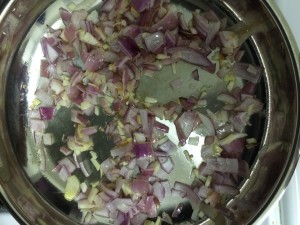 Add your rice and let it cook for 2-3 minutes. It will toast a bit and pick up some of the onion and garlic flavors.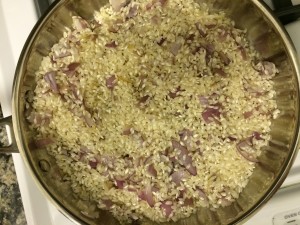 Season with salt and pepper. Add the water and the lime juice. And bring to a boil. Once boiling, lower to a simmer, cover and let it cook for about twenty minutes, or until the liquid is absorbed.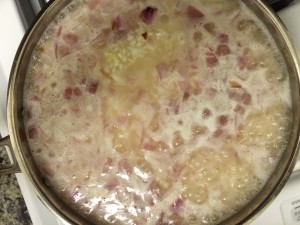 You's have fluffy rice, studded with red onion and garlic, and the scent of limes will be wafting in the air.
This is a great side dish for tons of main courses, but when it's warm out, all I can think about is some shrimp slathered in old bay.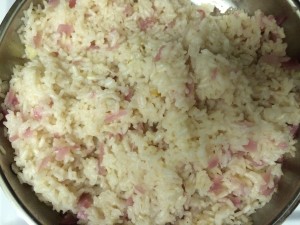 Simply toss frozen (straight from the freezer, no thawing), deveined shrimp (peeled or not, but always tail on) into a big skillet and douse it with old bay seasoning. Cook over medium until shrimp are done (they'll turn pink).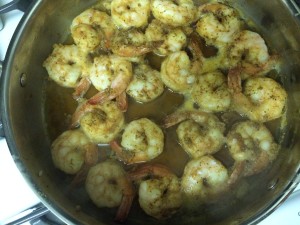 Serve the shrimp alongside the rice. The rice will cool down the heat from the seasoning.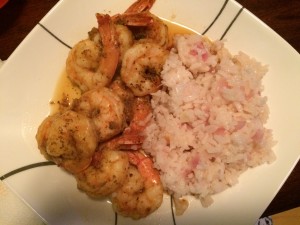 Then again, so will an ice cold beer.