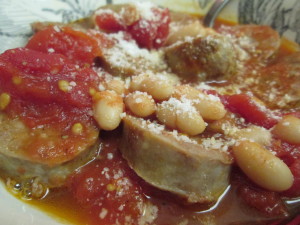 So after a glimmer of Spring, we're back to the arctic blast, or the polar vortex, or Mr. Freeze or whatever.
Just when I was dreaming about lemon cakes and avocado and shrimp salad.
So back to the hearty and warming dishes we go.
This one comes from watching Extra Virgin on Cooking Channel the other day. We saw it and both had the same reaction: when can we have that?
Well the answer is now.
This is a super simple and super rustic Tuscan-style dish that is hearty and filling and warming and oh so yummy.
And simple.
Did I mention simple?
Like 3 ingredients (plus olive oil and salt and pepper) simple.
All you need are
Sweet Italian sausages (figure two links/person)
1 can of whole peeled tomatoes (1 can worked for the two of us. multiply as appropriate)
1 can cannellini beans, rinsed and drained
olive oil
salt
pepper
Drizzle olive oil in the bottom of a heavy-bottomed pot and add your sausage. Cook over medium, turning to brown all sides.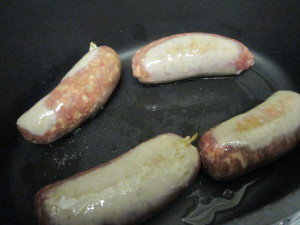 You aren't looking to cook them all the way through, just get a nice crust on the outside. When all sides are brown, remove from the pot and place on a dish for now. We'll get back to them.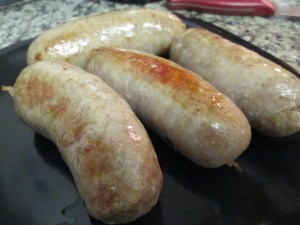 In your pot, you've got all this yummy oil that's been flavored by the sausage. To that, add the can of whole tomatoes.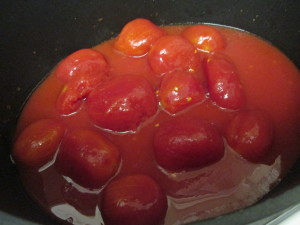 Let these simmer over medium heat for about 15 minutes. They will start to break apart.
Help them along with the back of a spoon. Season generously with lots of black pepper. I salt moderately because my mom always did. But I can hear the Chopped judges yelling to salt your food properly.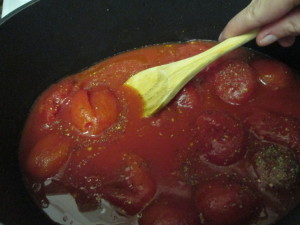 Add the cannellini beans to the tomatoes and give a big stir.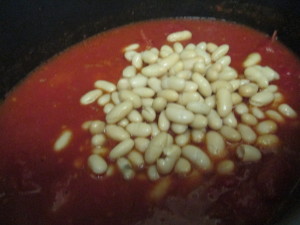 Let these cook together for a few minutes.
Meanwhile, slice up your sausage.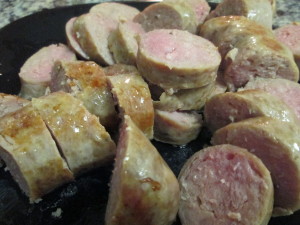 See how it's still a touch pink? Well, we're going to fix that.
Into the pot they go.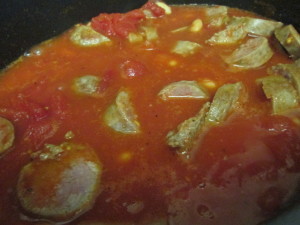 Let the sausage simmer in the tomato and cannelli beans for about 20 minutes. The longer it sits, the more the broth becomes infused with the sausage flavor. I actually made this for myself when I got home, then left it on the stove, covered, on low heat for a few hours until my other half got home.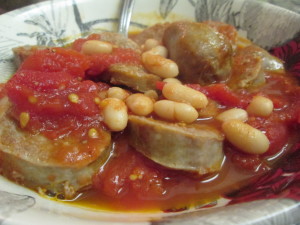 Sprinkle with parmesan if you like.
See that? Sausage, beans, tomato. That's the perfect forkful right there.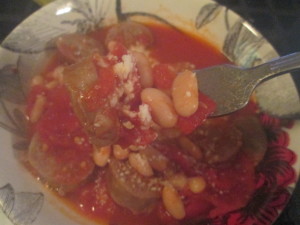 I forgot one important thing to add to your grocery list.
Some crusty bread to mop up all those juices.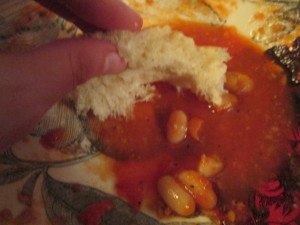 Don't you feel warmer already?
Note: this is making its way into our goto recipe rotation.