I love veggie chili. It's great game day food, but even when it's really hot out, it somehow still manages to be a great dinner choice. Maybe because it's all veggies so it feels lighter than a meat filled chili would.
Anyway, one thing I haven't been able to figure out with veggie chili is how to keep it from being kind of wimpy. You know what I mean. Somehow without the meat it just doesn't feel quite like a chili sometimes.
That is, until now.
I was watching Rachael Ray's week in a day and she happened to be making veggie chili. I have made a lot of iterations of a veggie chili, so I was like okay Rachael, what are you going to do? Surprise me.
And guess what?
She did.
She started out with sauteeing diced green and red bell peppers and an onion in some olive oil.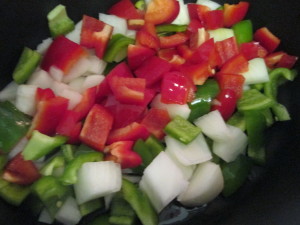 When those were softened, she added about a half cup of light beer and let that bubble for a bit.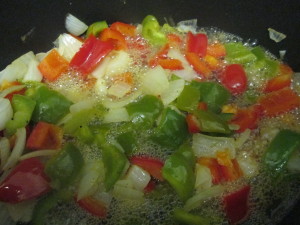 Next a can each of black beans and red kidney beans, rinsed and drained, and a can of diced tomatoes, juices and all.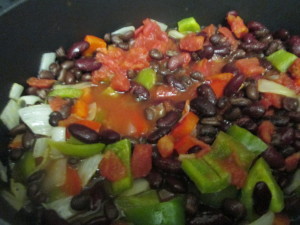 Let that cook for another few minutes. Season with salt and pepper to taste.
You could stop there and be pretty happy, right?
Wrong! So so wrong. Here's what Rachael did to transform this pot of veggies into a thick, delicious, complex veggie chili.
She added a can of refried beans!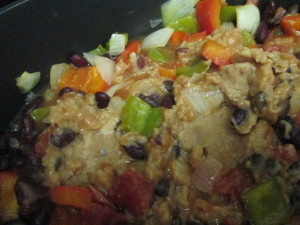 Yup, refried pinto beans. I don't know why I never thought of it, but as soon as she said it I was like, that's genius.
Te refried beans warm up and melt into the veggies and create the thick sauciness around the peppers and onions and beans that you would get if you were using meat.
See that? Doesn't that just look amazing?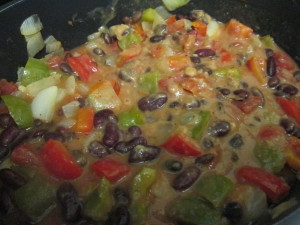 Dish it up in big bowls topped with cheese or avocado or crumbled tortilla chips and click on the game.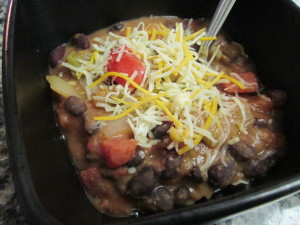 Oh. It's summer. There is no game?
Oh well. Crack open a beer and take your chili to the front porch and watch the world go by.