So we've done Italian and Irish this week, which covers my family. So I decided it was only fair to make something from his side.
I think I've mentioned this before, but if I haven't, my fiance is Greek and Armenian, but the Armenian part of his family lives in France. So a lot of the food he grew up with actually has some French influence.
One such dish? Crepes.
We ate our weight in crepes when we were in Paris!
I had only ever had a sweet crepe before, but while I was there, I fell in love with the savory ones. Melty cheese, salty ham, warm crepe wrapping it all up.
C'est Magnifique!
So I decided to bring us back to the streets of Paris with dinner.
Crepes are a tad fussy, but once you get into a rhythm, and break one or two, you're fine. And they don't have to be perfect! When you put them on the plate and they're all covered with cheese and mushrooms and onions, no one will know!
Not having meme's crepe recipe, I went to the webs and decided on Alton Brown's. Because, well, he's Alton Brown and he can do no wrong.
And because he made his batter in a blender.
And I'm always in for using a blender instead of a bowl and a spoon.
Plus, the blender makes it really really easy to pour out the batter.
I know. Alton Brown is a genius.
For the crepes you will need:
2 eggs
3/4 cup milk
1/2 cup water
1 cup flour
3 tablespoons melted butter + extra butter for pan
For the filling, I used
sliced white button mushrooms
slice baby portabella mushrooms
1 medium yellow onion, fine sliced
olive oil
black pepper
a splash of white wine
gruyere
To get started, toss all the ingredients for the crepe batter into the blender.
Give it a couple of quick pulses until it is smooth and combined.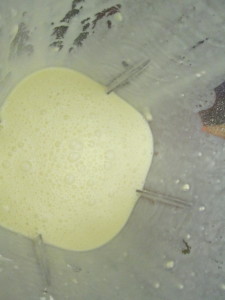 Put the batter into the fridge for about an hour to rest.
While the batter rests, we're going to make the filling.
In a skillet, drizzle olive oil and toss in the onions.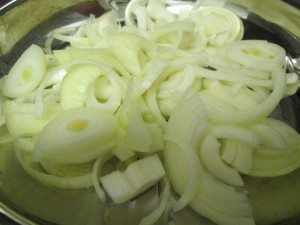 You really want to let these cook down and get nice and caramelized. It will give the filling a flavor sort of reminiscent of French onion soup and that combines two French food favorites in one dish!
When the onions are cooked down (Maybe 20 minutes) add a splash of white wine and scrape all the brown bits up from the pan. Then add the mushrooms.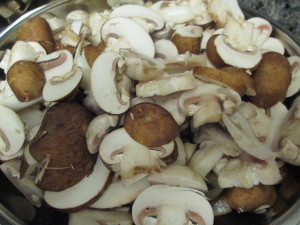 Let the mushrooms cook down. Season with black pepper. I refrained from salting because the gruyere is rather salty.
When your batter has rested, it's go time on the crepes.
You're going to want a nonstick skillet or griddle. I used the griddle because I found it easier to flip the crepes.
First, melt some butter on the pan. You don't want a pool of butter, just a nice layer. So take a paper towel and wipe the butter lightly. Hang on to the butter-soaked paper towel because you can use it if the pan needs some butter.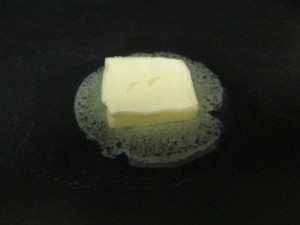 Carefully pour the batter onto the buttered skillet and swirl around into a thin layer. Don't worry if it's not a perfect circle. None of mine were. They taste the same.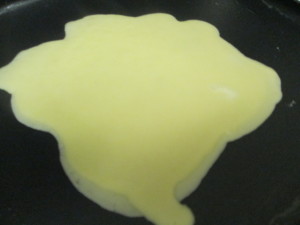 Cook on one side for about 30 seconds. Then, with a spatula, very gently lift the crepe and flip.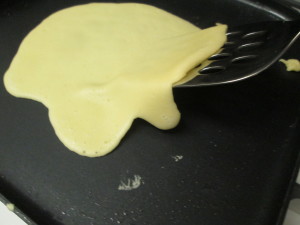 Cook on the second side for about 20 seconds.
Remove from the pan and set on a plate to cool. Keep cranking out the crepes and stacking them up until the batter is done.
When you're ready to assemble your crepes, toss one back onto the pan and sprinkle with grated gruyere.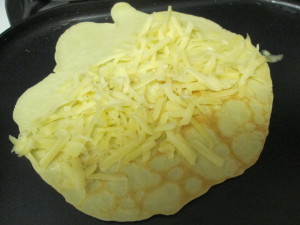 Let the cheese melt for a few seconds and then scoop some of your mushroom and onion mixture on top.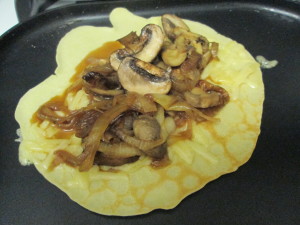 Fold one side of the crepe over.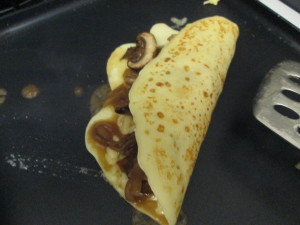 And transfer to a plate.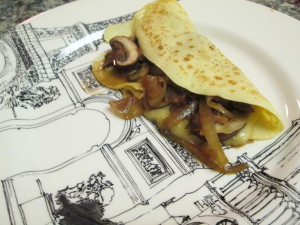 And repeat!
Pour some red wine and imagine you are sitting in a small cafe on the Champs Elysees.
Oh and if you have leftover crepes, they stay well in the fridge or in the freezer.
I have a great, quick lunch idea using some that I will share soon!