Two of my favorite things in the dinner world are meals that can be made in one pot and things that involve a gooey egg with a runny yolk.
This lovely concoction delivers both.
A baked egg dish brings a lot to the table. Ease, convenience, great way to use up some leftover veggies, and a way to pack in the veggies and goodness.
This dish is packed with all the flavors of a taco, but eliminates the extra calories of the tortilla and gives a protein punch with some eggs. Also, it's a lot less messy than a make-your-own taco bar.
You will need
1 white onion cut into thin slices,
2 bell peppers (any color) cut into slices
1 can diced tomatoes
1 can black beans, rinsed and drained
4 eggs (two per person)
olive oil
salt
pepper
cheese, avocado, sour cream or whatever toppings you prefer
Start by drizzling olive oil in your pot. You want something that is oven-proof and also has sides at least 4 inches high, so you can sautee your veggies and not throw them everywhere.
Toss in your onion and peppers.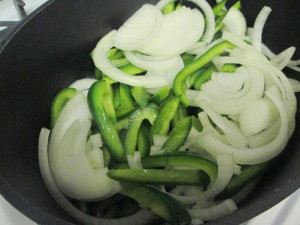 Let them cook over medium until the onions are translucent.
Next add diced tomatoes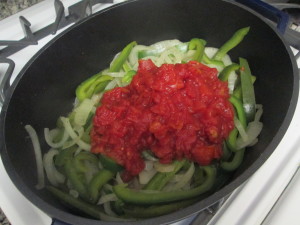 And stir
Let the tomatoes warm through and cook for about 5 minutes
Then add the rinsed and drained black beans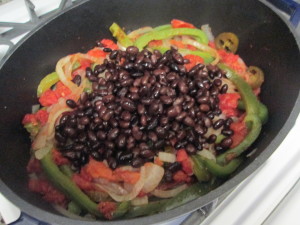 And stir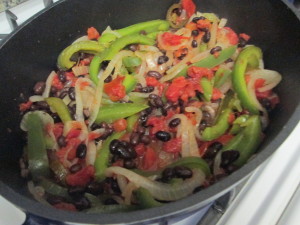 Season with salt and pepper and let this cook together for a few minutes.
Meanwhile, preheat your oven to 425.
When you're happy with your veggie mixture, lower the heat a bit and, using a wooden spoon, make a small divot in the mixture – one for each egg.
You want to be able to crack an egg and have it nestle into the little hole.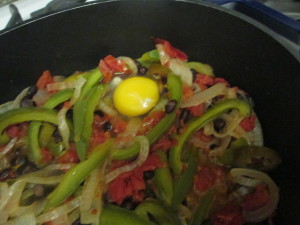 Repeat with all your eggs.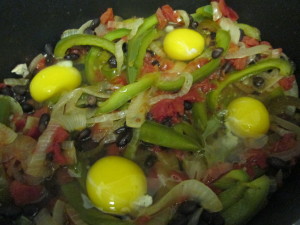 Then pop into the oven to bake for about 30 minutes, or until the eggs are set.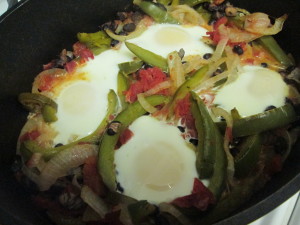 Carefully scoop out so as not to break the yolks and pile on a plate.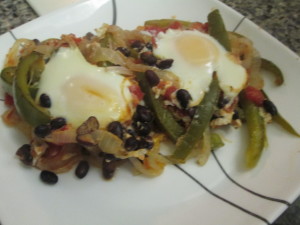 Add cheese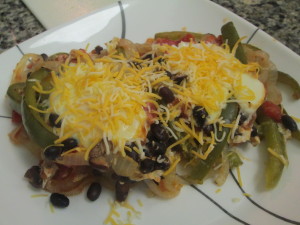 Some avocado and Greek yogurt (sorry we don't use sour cream)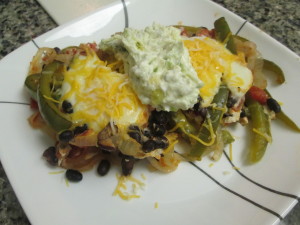 And voila. Mexican baked eggs and only one messy pot.