When we were in Paris last year, a former co-worker of mine said you must go to this Lebanese restaurant down the street. It has the best Lebanese food outside of going to a Lebanese house for home cooked meals.
Now, we're from New York, where you can really get the best of any cuisine you want at any time of day. So we were a bit skeptical.
Of our 4 nights in Paris, we ate at this restaurant 2 of them (1 night we ate with my husband's family and the remaining night we ate steak frites at a cafe, because, you know, Paris.)
The dish we absolutely fell in love with (and ate both nights) was Fatteh.
Fatteh originated in the Middle East and consists of toasted pita bread or flatbread as the foundation for other ingredients such as lamb, yogurt, vegetables and chickpeas.
The fatteh we had was composed of toasted pita, roasted eggplants, toasted pine nuts and chickpeas and hot yogurt. I can't explain how warm and comforting and unctuous this dish was. Especially on a rainy winter evening in Paris.
So last night I was feeling nostalgic and I decided to try and recreate the dish. Sort of
I left out the eggplant because I'm assuming they used the wood fire oven to get it to be so roasted and charred and delicious. And I haven't figured how to recreate that at home. Yet.
So for this you will need
1 7oz container full fat Greek yogurt
1 tbsp tahini
juice of 1 lemon
salt
handful of pine nuts
1 can chickpeas, rinsed and drained
2 cloves of garlic, minced
Toasted pita or vegetables for dipping
So I built mine as more of a dip, but when we got it in the restaurant the warm yogurt was in the center of the pita bread, with enough edge on the pita bread uncovered by the yogurt for grabbing and eating.
Improvisation at work here.
Start by preheating your oven to 350 (to toast the pita bread)
Meanwhile, toss a handful of pine nuts in a dry skillet and heat on low heat to toast.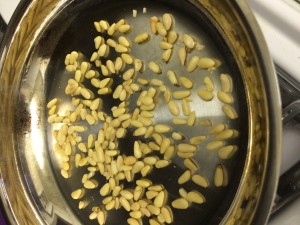 After 5 minutes or so, add your rinsed and drained chickpeas and minced garlic and continue to cook on low to medium heat.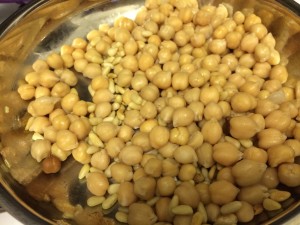 While the chickpeas warm, toss your pita bread in the oven, then in a bowl, mix together the yogurt, tahini, lemon juice and salt (to taste).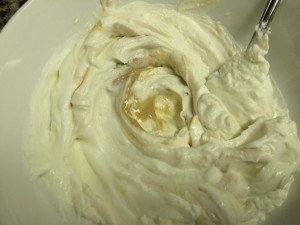 Add a tablespoon or two of hot water to thin the mixture a bit and to warm it.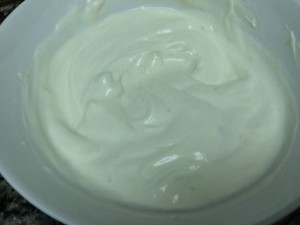 Add the toasted pine nut, chickpea and garlic mixture to the now warm garlic.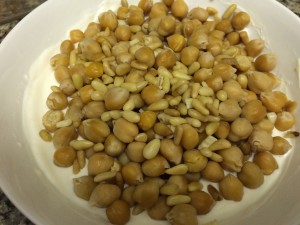 Serve with pita and/or vegetables (I used cucumber).
Dig in with a warm, crispy triangle of pita.