Every time my husband goes to Austin he comes home raving about the enchiladas.
We make quite a bit of Mexican food, but I had never tried enchiladas.
This was a decidedly team effort.
because he is the one who has eaten these fabled enchiladas from Austin
and two, because as you read on, you'll see you need four hands for this one.
I decided to keep the filling fairly similar something we would make for tacos. So I went with
3 diced green bell peppers
1 diced onion
1 can black beans, rinsed and drained
shredded rotisserie chicken
Preheat the oven to 400
Start by tossing the peppers, onions and beans into a pot with a drizzle of vegetable oil. Cook over medium until the peppers and onions have softened.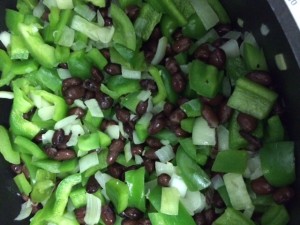 Toss in the shredded chicken. It's already cooked so we're just looking to warm it up a bit. Season with salt and pepper.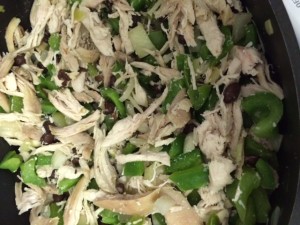 You can stop there and have some awesome tacos. Just scoop the filling into tortillas and add some cheese and guac.
To turn them into enchiladas you will need:
2 cans red enchilada sauce
shredded taco cheese
tortillas
You will also need a wide, shallow dish (like a pie pan) to dump the enchilada sauce in and a 9×13 baking dish to bake the enchiladas in.
Oh, and a partner. You definitely will want a partner for this one.
Pour some sauce into the 9×13 pan. Just enough to coat the bottom. Pour the rest into the shallow dish.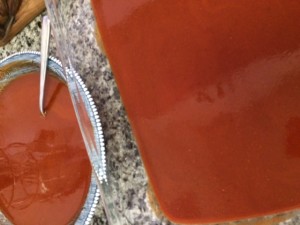 Set up an assembly station with the pot of filling, cheese, tortillas, dish with the sauce and 9×13 baking dish. (ignore the bananas in the picture. We have a small kitchen. I had nowhere else for them to go)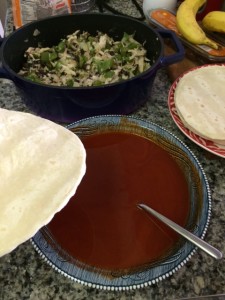 Fully dunk a tortilla in the sauce.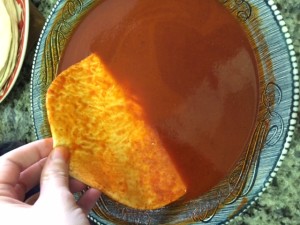 Hold the tortilla and have your partner spoon some of the filling into the center. Careful you don't overfill- you need to be able to roll these.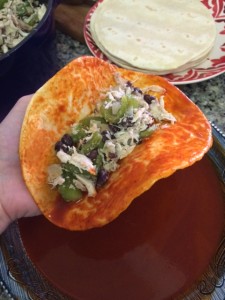 Have your partner sprinkle on some cheese.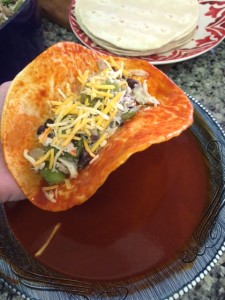 Carefully roll the tortilla, bringing both sides together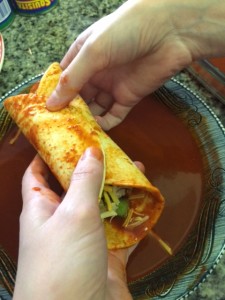 And place seam side down in the baking dish.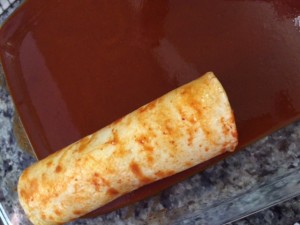 Repeat this process until you are out of tortillas or until the baking dish is full.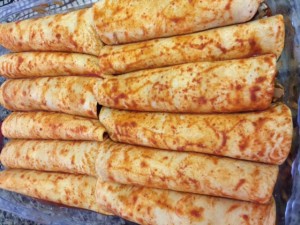 Pour the remaining sauce from the dish over the tortillas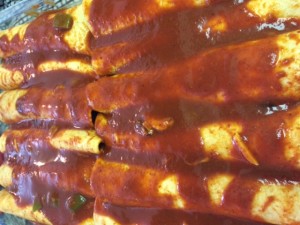 Top with cheese and bake for about 30-40 minutes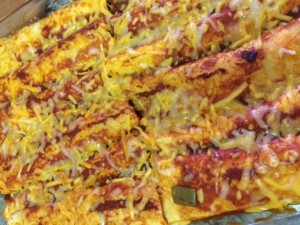 Serve up with a side of guac.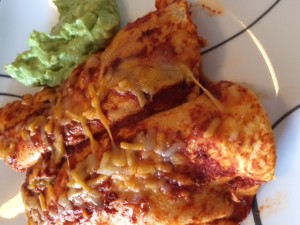 By the way, we made a lot of enchiladas because my brother in law was coming for dinner. But I definitely recommend making a big dish of these because 1. it's a messy process, so get messy for a big reward, and 2. they keep well in the fridge, so you can have leftovers!