It's been rainy and dreary here in New York. So we definitely needed something yummy, and warm and comforting.
But it's also almost Spring (or at least it should be feeling like Spring, ahem, Mother Nature).
So I was thinking of a recipe that would be good for a rainy day but would also hint at the coming of Spring.
My thoughts immediately turned to scones. What's better on a rainy day than a warm, buttery scone and a mug of tea?
Nothing! That's right.
But how to spring-ify that scone?
I don't know about you, but spring always makes me crave bright, citrusy, lemony desserts.
Bingo.
Here you have super simple, super warming scones, topped with a bright lemon sugar.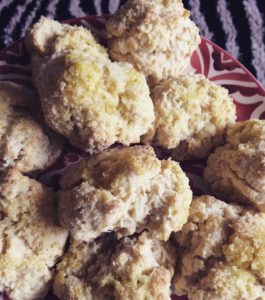 For the scone recipe you will need:
1.5 cups flour
2-3 tablespoons sugar (depends on how sweet you want them)
2.5 teaspoons baking powder
.5 teaspoon baking soda
pinch of salt
5 tablespoons unsalted butter
2/3 cup reduced fat buttermilk
Topping
zest of one lemon
2-3 tablespoons sugar
Preheat oven to 400.
Mix together the dry ingredients and then add five tablespoons of cold butter.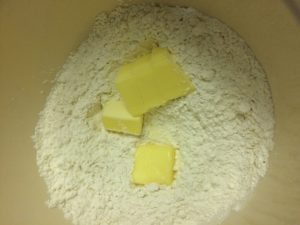 Using a pastry cutter or two knives combine the butter with the dry ingredients.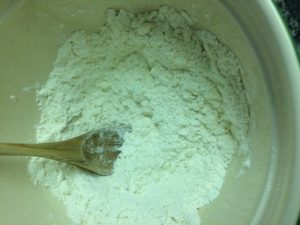 Then make a well and add the buttermilk, stirring until the ingredients come together. You may have to get in with your hands and knead the dough a bit.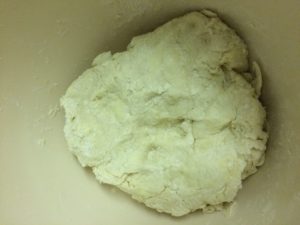 Let the dough sit for a minute while, in a bowl, you combine the lemon zest and some sugar to make your lemon sugar topping.
Break off roughly baseball sized balls of dough, loosely form in a ball and press the top into the lemon sugar.
Arrange on an ungreased baking sheet.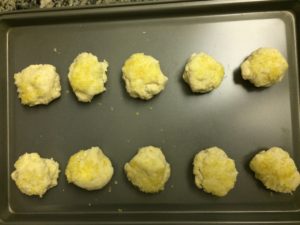 Bake for 15 minutes or so.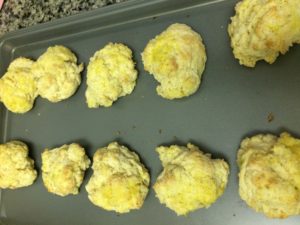 Buttery, warm, comforting scones with a bright lemon zing.
Come on Spring!