This is a super easy, super light, super healthy dinner that was almost no effort at all.
I love eggplant parm., but boy can it be a process. If you don't believe me, check it out here. Don't get me wrong, on a lazy Sunday I have no problem hanging in the kitchen and frying up slices of eggplant.
But on a weeknight I just can't see coming home from work and spending the time at the stove. Everything has its time and its place and the same is true for food.
So when I saw Giada making eggplant and portabella sandwiches on Food Network, I knew I had found the week night eggplant fix.
I eliminated the sandwich portion and instead made bigger stacks to make this a hearty and filling, yet healthy meal.
There is no frying. And the eggplant and portabella leaves you feeling full and satisfied, even without any meat.
For this recipe you will need
1 eggplant sliced into 1/2 inch thick discs
2 portabella mushrooms, stems removed
Italian-seasoned panko bread crumbs
1 egg, beaten
flour (for dredging)
mozzarella cheese
marinara sauce
Preheat the oven to 425.
Lay out your veggies.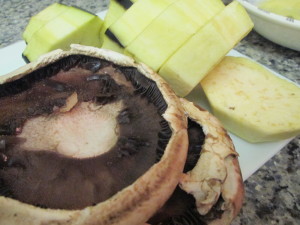 And set up a dredging station. Flour, Egg, Breadcrumbs. Place a lightly oiled cookie sheet at the end of the assembly line.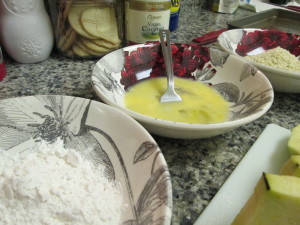 Take a piece of eggplant and start by dunking it in the flour
then into the egg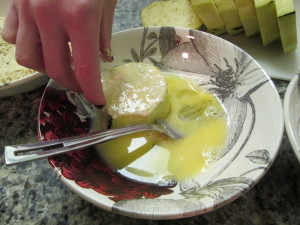 then into the panko bread crumbs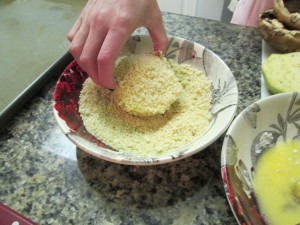 Continue until all of the eggplant slices and the portabellas are coated and lined up on the cookie sheet.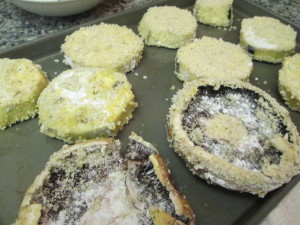 Bake for about 20 minutes.
Plate up the stacks and top them with some mozzarella cheese and some marinara sauce.