So my favorite thing in the world is when I can cook one thing and get more than one meal out of it.
Okay it's not my favorite thing in the world, but it makes me really really happy.
I had a ham in my freezer from an Omaha Steaks order from my aunt. I had kind of forgotten about it. Then I saw it tucked in the back and the wheels immediately started turning.
If I cooked that one ham on Sunday, we could have Croque Monsieurs on Monday and a Ham and Cheese Quiche on a Tuesday. Even better? All of the ingredients for both meals are essentially the same, so less to buy at the store. Score!
Croque Monsieur is basically the best ham and cheese sandwich you will ever eat. When we were in Paris, my meals largely consisted of Croissants, Croque Monsieurs and Steak Frites. Croque Monsieur is sort of like a ham and cheese, meets grilled cheese meets savory stuffed French toast.
The ingredients are super simple, like a lot of French cuisine. It's really just about the execution.
You will need:
bread (any kind you prefer)
ham, sliced
swiss cheese, sliced
butter
eggs
milk
I cooked the ham on Sunday, let it cool, sliced it and popped it in the fridge. This way, Monday after work I only had to assemble the sandwiches and cook them until the cheese melted. But I am getting ahead of myself.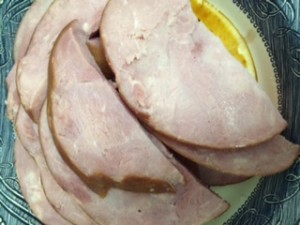 Start by placing a few slices of ham on one slice of bread.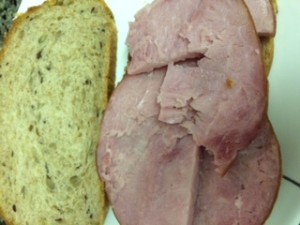 Add the cheese and then add the other slice of bread.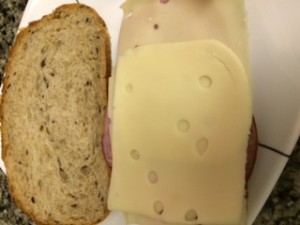 In a shallow dish, add two eggs and a splash of milk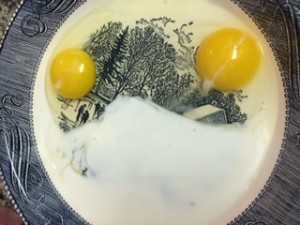 and whisk until combined (see, kind of like French toast.)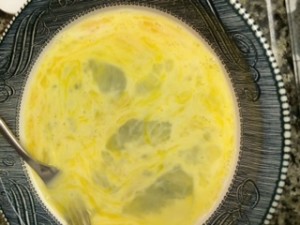 Next, carefully take the whole sandwich and place it in the egg and milk batter.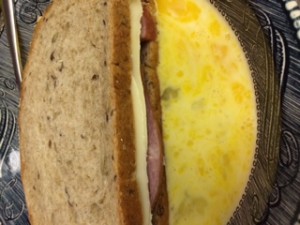 Press it down so it is fully coated and then flip so the other side is coated as well.
Repeat with your other sandwich.
Melt some butter on a skillet and place your sandwiches in the melted butter.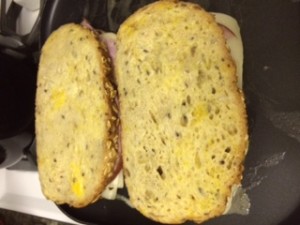 Cook on the first side until golden brown (maybe 5 minutes over medium heat) and then flip and cook on the other side.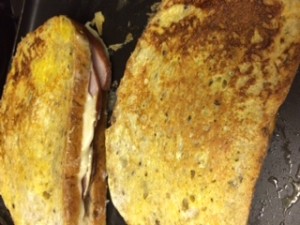 The bread will be all golden and custardy and the cheese will be melting into the ham.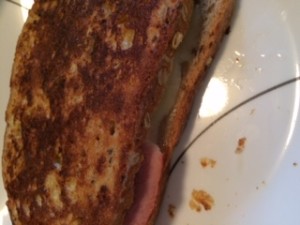 For a very French touch, and to cut the richness of the ham and the cheese, serve with a salad with a mustardy vinaigrette. The mustard and the vinegar is the perfect balance to the richness of the sandwich.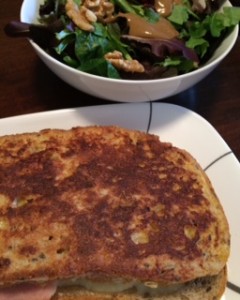 Enjoy your sandwich, and store the leftover ham and cheese in the fridge for tomorrow's dinner. We'll keep it French again with a ham and cheese quiche.