The very first meal we ate in Paris was croque madames while the hotel got our room ready.
That was when I learned about the French way- your room being ready upon arrival really means your room being ready after the maid has had her nap.
So, tired after the train ride from London, we took our bags to the closest cafe and ordered two pernods and two croque madames.
A croque monsieur is essentially  french ham and cheese sandwich. It becomes a croque madame when you add a fried egg.
You will find these sandwiches on the menus of every cafe lining Paris's streets, and, if you have one you'll know why. They're so simple, yet so incredibly delicious with the toasted bread, the buttery, melted cheese and the salty ham. The runny egg yolk is la piece de resistance.
I've had a travel itch lately, so when that happens, I tend to recreate meals we had on our travels, to give myself the illusion of being elsewhere.
For the croque madame you will need
Bread
ham
cheese (traditionally gruyere but anything that melts well will work)
butter (because what's a French dish without butter?)
eggs
A traditional croque monsieur or madame is made with a beschamel. That's lovely when you're on holiday, but a little too heavy for everyday eating. So I eliminated the sauce and made something a bit more akin to a grilled cheese.
Start by using a biscuit cutter or a glass to cut a whole in two slices of your bread.
Butter a skillet and toss the two slices with holes and two more slices into the melted butter. Cook over medium heat until browned.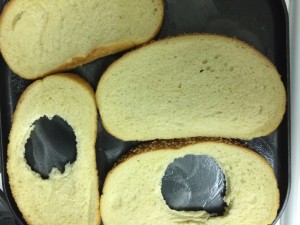 Once browned, flip the bread and carefully crack an egg into each hole- sort of like when you make egg in the holes. Okay, exactly like when you make egg in the hole.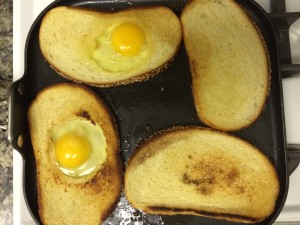 Once the egg is cooked but still runny, top the non-egg bread with slices of ham.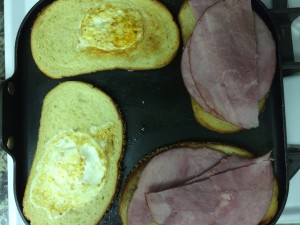 Remove the ham side from the skillet and place on a foil-lined cookie sheet. Top the ham with shredded cheese and pop under the broiler to melt the cheese.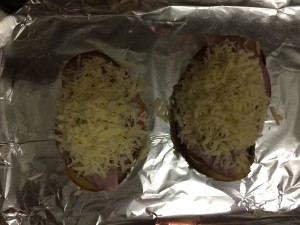 It only takes a minute or two to get the melty gooey perfection, so don't go anywhere.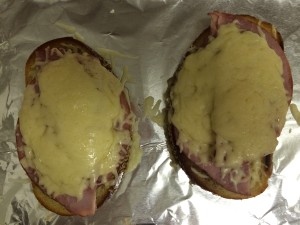 If you want to be extra decadent, you can also top the egg-bread with cheese and pop under the broiler.
So that when you make your sandwich, you have two doses of cheese.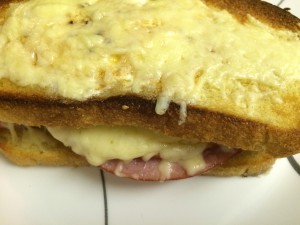 Egg-in-the-hole-meets-grilled-cheese-meets-taylor-ham-sandwich.
My version of a croque madame.
C'est Magnifique.