I was thinking about the name of my blog, and I was thinking about what really makes a dish Itty Bitty City Kitchen friendly.
And I came up with a few factors.
As the name implies, the kitchen is itty bitty, so dinners need to not need a lot of ingredients. They also need to not require a lot of pans or any fancy gadgets that can't be stored in said itty bitty kitchen.
Also, as the name implies, this kitchen is in a city, which means that it's probably in a bustling, crowded area that's packed with people and noise. It also probably means that work hours are long and by the time you get home, what with the crowds and noise, meal prep has to be fast. And easy. You're probably tired.
So, with all of that in mind, here is what I think is one of the most itty bitty city kitchen friendly meals, ratatouille. You can vary the ingredients, but think five vegetables and some seasonings. Also, one pot. Also, also, you throw said ingredients into said one pot and just stir it once in a while. Small number of ingredients, one pot, and super fast and easy.
Oh. And Delicious.
Ratatouille is basically a stewed vegetable dish in a tomato base. You can swap out the vegetable and the spices based on your tastes, the season, and what you have on hand, but a can of diced tomatoes is essential.
I used:
2 green bell peppers, diced
1 small onion, diced
1 medium eggplant, cut into one inch chunks
1 can chickpeas, rinsed and drained
1 can diced tomatoes
You will also need vegetable oil, salt and pepper. I went slightly Middle Eastern and added turmeric, but you could do herbs de provence, thyme, Italian seasoning, anything really.
This is a throw everything in one pot dish, but you don't want to throw everything in at the same time. We're going to layer a bit.
Drizzle some vegetable oil in a heavy-bottomed pot. Add the peppers and onions and cook over medium until soft (10-15 minutes).
Add the eggplant, a drizzle more oil, salt and pepper and cook for another 10-15 minutes.
Lastly, add the diced tomatoes, chickpeas and turmeric. Let this cook, covered, for another 10-15 minutes.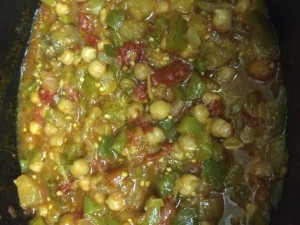 This can simmer for longer, but if you're just home from work and starving because someone did not order lunch for the meeting you had from 12-3, then this is good to go.
This makes a great side dish if you wanted to have some grilled chicken or steak.
Or, if you want to make this the center of the meal, whip up some quick cooking couscous. This is sort of a small kitchen, busy cook staple. Bring water to a boil, pour in couscous, turn off burner, cover, and boom, five minutes later you have couscous.
So, to serve this over couscous, make the couscous and scoop a few spoonfuls into a bowl.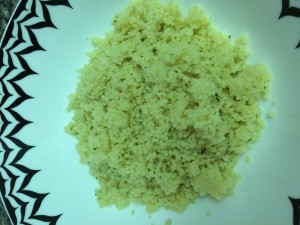 Ladle over your ratatouille.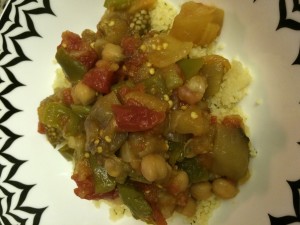 And then to really bring the Middle Eastern flavor home, add a scoop of Greek yogurt.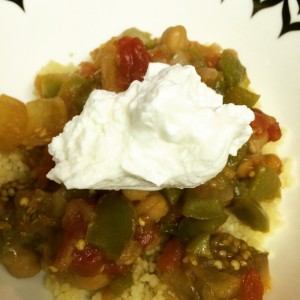 This dish is delicious, but the best part about it is that it gets even more delicious as it sits in the fridge.
What's more itty bitty city kitchen friendly than a one pot dish that serves up two dinners?