Gee, are't you glad we've galloped along to the letter g?
And to a big ol bowl of gnocchi!
I love gnocchi.
But it's not a dish I grew up with.
See, Italian food is very regionally specific. My family comes from Naples and gnocchi comes from Northern Italy, the other side of town.
So I don't have a gnocchi recipe passed down from my grandma.
Instead, I have one I found on Food 52 courtesy of Christina. This is her grandma DiLaura's gnocchi recipe.
So thank you, Christina for sharing, and thank you, grandma DiLaura for passing it down.
Most people think of potato dumplings when they think of gnocchi. But that's just limiting yourself to the vast potentials of gnocchi! This recipe here is a ricotta version that is the lighter fluffier more pillowy cousin of the potato gnocchi.
It sounds intimidating, making your own gnocchi. But I promise you, it's super simple and well worth the extra 20 minutes or so that making your own takes versus opening a package from the grocery store.
You will need
1pound fresh whole milk ricotta cheese
1large egg
1tablespoon olive oil
1/4cup finely grated parmesan cheese
2cups flour, sifted, plus extra for rolling dough
Add the ricotta egg and oil to a bowl and mix.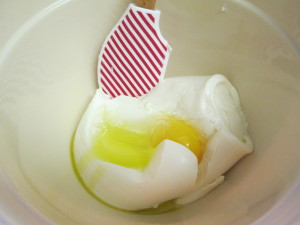 add the parmesan and mix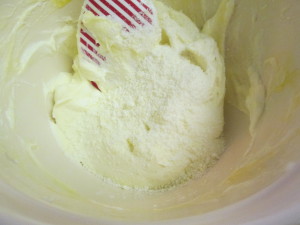 add the flour, one cup at a time, mixing in between.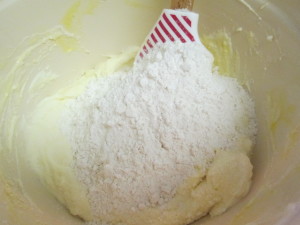 stir until the dough comes together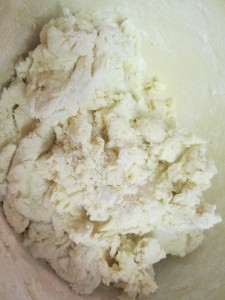 then turn out onto a floured surface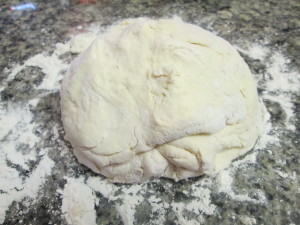 Divide the dough, lengthwise, into 4 pieces so it's easier to work with.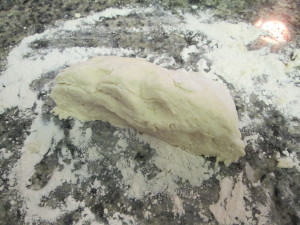 Now, like when you were a kid playing with playdough, start rolling the dough section out like a snake.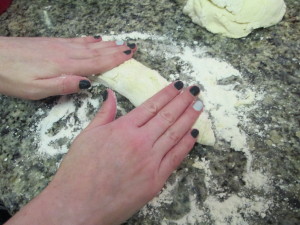 working your hands out from the center so the snake gets longer and thinner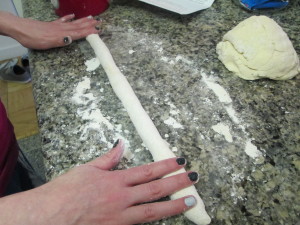 when it's about 1-2 inches wide (depending on how big you want your gnocchi) slice the dough into 1 inch pieces.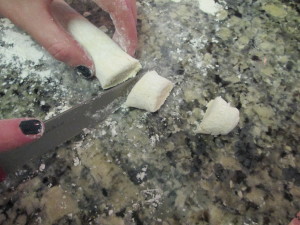 Next, take a fork and one of your little dumplings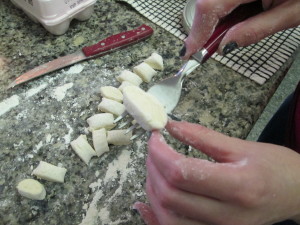 and roll the gnocchi over the tines of the fork to make grooves in it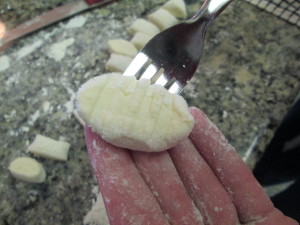 the sauce will stick inside those little ridges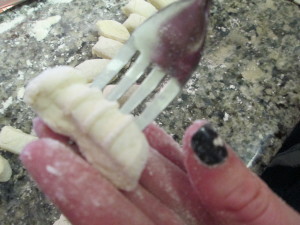 Repeat until all your dough is made into cure little gnocchi
These can be used right away or they can  be frozen for later use. If freezing, lay out on parchment paper in a single layer so the gnocchi aren't touching and pop in the freezer for an hour.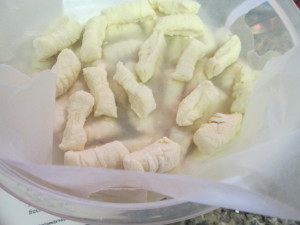 Once they are frozen, you can pop them into a ziploc bag.
To prepare, remove from the freezer and drop gently into a pot of boiling water. Gnocchi are done when they rise to the top.
Top with a simple tomato sauce, pesto or aglio e olio