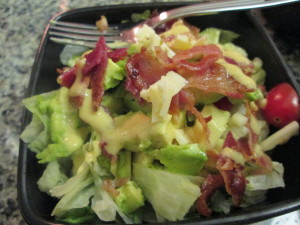 My fiance just got his wisdom teeth out.
Which means he's on the applesauce and mashed potato diet.
I feel horrible. But, at the same time, I'm hungry. And I can chew. So mashed potatoes and applesauce are just not going to cut it for me.
But I also don't really feel like cooking just for me. When I lived alone I never really cooked, not because I couldn't cook, but because it seemed like such a lot of work to make a meal just for myself.
But from that time alone, I've come up with some satisfying meals that involve just the smallest amount of cooking. This is one of them.
I love big salads for dinner. But sometimes you need a little meat tossed in there to make it really feel like a meal. Usually I go the route of the prosciutto salad dressing, but I was in the mood for something with a little more to it.
I liked the idea of prosciutto, but I wanted something a little smokier, something more like bacon.
And so, a BLT salad.
I love BLTs, but sometimes you just aren't in the mood for a sandwich. Don't brush aside the meal, but instead think about deconstructing it and assembling it in a bowl.
For this salad you will need:
Bacon
Lettuce
Tomato
Avocado
(and any other bits you like added to your BLT)
For the dressing, I'm making a champagne vinaigrette. But again, use whatever you like.
My dressing is a tablespoon of good, spicy mustard, a tablespoon of champagne vinegar, two tablespoons of olive oil and some freshly ground black pepper, tossed in a mason jar, then shaken (lid on) to combine.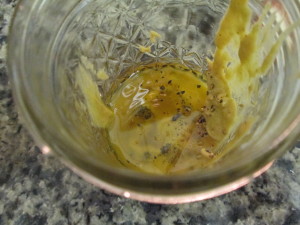 From there it's just a matter of slicing up your veggies and your bacon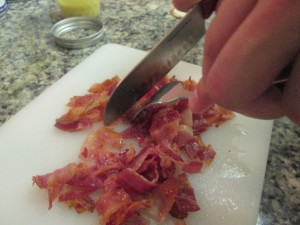 Tossing in a bowl and topping with dressing.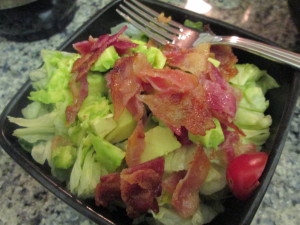 I'm aware it's slightly mean to make bacon and fill the apartment with the intoxicating aroma when your other half can't eat, but I've made promises to make him all of his favorites as soon as he's better.
That makes it okay.
Right?