With Christmas only a few days away, dinners need to be fast, easy and light.
Whenever that's the order of the day, I turn to quiche. Quiche doesn't sound light, but if you take away the crust, you're left with fresh veggies and eggs, both of which are good for you things that will keep you going during your marathon present wrapping session!
I know that the crust is the best part of most things. But with the amount of pies and cookies that we're all going to consume in a few days, I think it's okay to lose it for this dish.
You can use any vegetables you like in this. I'm going with spinach, tomatoes and some feta cheese for a bit of a Greek twist. Let me know the combos you come up with.
The basic quiche mix will be the same.
You will need 4 eggs and a few tablespoons of heavy cream. Okay I'm being a little naughty. You can use skim milk if you want to be totally virtuous.
Also, I bake my quiche in a lightly buttered pie dish. It makes for easy serving, easy clean up, and it looks really pretty. I usually don't care about presentation, but with the holidays coming up, I send that to you as a little piece of advice in case you wind up with unexpected overnight guests. Baked eggs in a pie dish = elegant breakfast!
Okay, for my spinach, feta and tomato quiche, I started by preheating the oven to 400.
Drizzle some olive oil in a skillet and add heaping handfuls of baby spinach.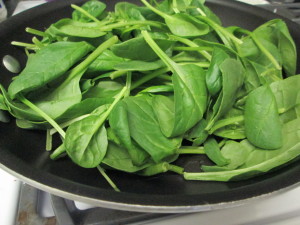 When the spinach starts to wilt a bit, add a few diced tomatoes (The other wonderful thing about quiche is that there's no measuring necessary. Chop up leftover veggies, throw 'em in and you are good to go).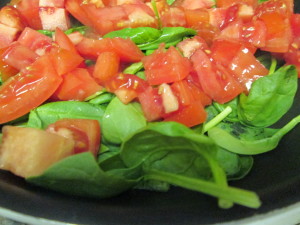 When the spinach and tomatoes are cooked, pour the mixture into the bottom of your greased pie plate.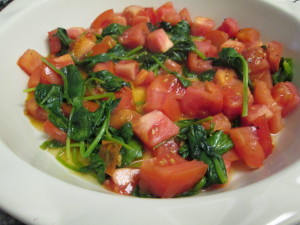 You'll notice I didn't season these. I'm going to crumble feta over the veggies, so I don't want to add extra salt.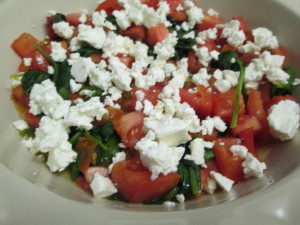 And I season my eggs with pepper (I forgot to take a picture after adding pepper. Imagine little black specks floating amidst the cream and egg yolks!)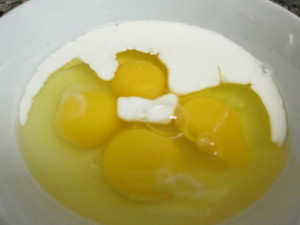 Beat the eggs and cream and pour over the veggies.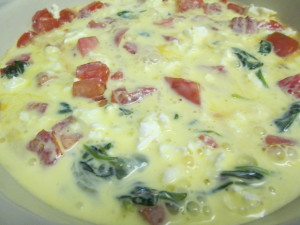 Bake for about 30-40 minutes, or until the eggs are set.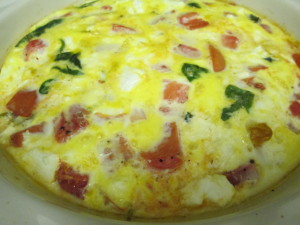 This is great to bake the night before then warm up for a grab and go breakfast, too.
And look. It's red and green. That's a very festive quiche, if I do say so myself.