Dreaming of beaches over here still even though the temperatures are below zero.
So I'm still combating the cold by cooking some of our warm weather favorites.
One of our favorite places in the world is the town where my parents have their shore house. It's where I spent my summers. It's where I feel most relaxed. It's where I threw my first kegger, had my first crush and my first hangover.
It's also where my fiance proposed to me.
Fenwick Island. I just think of it and am happy.
The DelMarVa peninsula is known for a few things, fresh crabs being one of the top.
There's an Italian restaurant in the area that takes advantage of the fresh, local seafood, and merges it with Italian classics.
Their best dish? Pesto crab pizza.
It's amazing.
And while it sounds complicated, it really couldn't be easier.
To bring the Delaware shore to your home, you will need
Frozen pizza dough, thawed
pesto (store bought or homemade – my recipe here)
mozzarella
1/2 a pound fresh jumbo lump crab meat
See my previous post about Jersey Tomato Pizza for tips on stretching out the dough.
Once the dough is stretched, it's just a matter of layering pesto, crab and some mozzarella on the dough and baking at 425 for about 10 minutes.
I got so excited about making this that I forgot to take pictures along the way.
That's how good this is.
We actually ate all but two pieces before we remembered we needed shots for the blog.
Oops.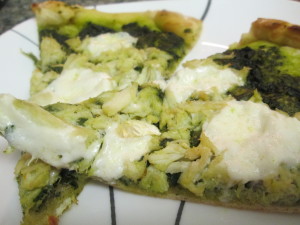 Not that I'm counting, but 163 days 'til summer and 'til we're eating this pizza at the beach!