Wow. I've been gone for a while!
SO let me catch you up real quick. If you've been reading, you know I was very stressed and crazy busy with planning our wedding.
Well, now, the wedding's over, the stress is gone and we have just returned from 2 weeks in Italy.
Which means that I have a ton of yummy meals that I need to try and recreate because Italy is a bit far when we have a craving.
One of our absolute favorite meals we had was not in a fancy restaurant. Okay, well actually it was in a fancy restaurant, but not on the restaurant's menu. And not when the restaurant was open.
Let me explain.
My husband (still so weird to use that word) and I stayed at the beautiful Hotel Buco di Bacco in Positano. Yup. That's the hotel. Right on the beach.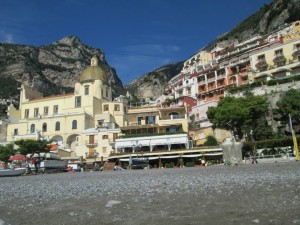 Well, Buca di Bacco, like almost all of Positano, closes down in November and reopens around Easter. We were the last guests in the hotel for the season.
A few of the hotel employees mentioned a party to us. Come tomorrow night to the restaurant. We have an end of season party. They said. My husband and I looked at each other and said okay sure, thinking it would be a few people, a few bottles of wine and a few plates of food. It'll be fun. We said. We can grab dinner after. We said.
Here's a close up of the restaurant by the way. Don't you just want to sir on the balcony and watch the boats roll in? That's what we spent a lot of time doing!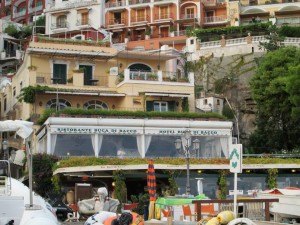 Well, the next day, we saw cases of wine being brought into the restaurant. A small party this was not going to be.
We walked into the restaurant which had been transformed, with tables pushed together into long, family style banks, with a very large table of antipasti off to the side. Oh and there was a band.
A small party this definitely was not.
Some of the food we had eaten at the restaurant during the course of our stay was on display, but also on the table were some local favorites. The down home food that is so good and so comforting, but that would never find its way onto a menu.
Pasta e ceci is one of those dishes.
Ceci is Italian for chick peas,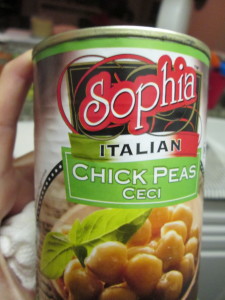 So the dish is literally pasta and chick peas, and there really isn't all that much more to it than that.
The chef actually came out to join the party and to talk to everyone, and when he told him we absolutely loved the pasta e ceci and asked him how to make it, he gave us a funny look. It's pasta and chick peas. He said.
There is a bit more to it than that, but the dish is so simple and rustic and common in the area, that I think he couldn't believe we talked to him about it and not some of the other delicacies (which were all delicious!)
Pasta e ceci is warm and comforting and filling. It is the perfect dish to curl up with by the fire, or to warm you after a chilly night by the Tyrrhenian Sea.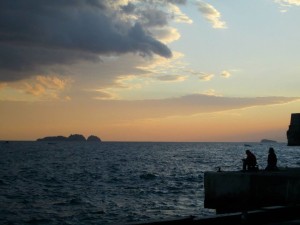 So, for this dish, you will need
1 small onion, peeled and diced
2 stalks of celery, diced
2 cloves of garlic, minced
1 sprig of rosemary
2 cans of chick peas, rinsed and drained
chicken broth
some pasta (you want something small. This is a good way to use up some pasta that you have left over. The shapes don't need to match. Break up lasagna noodles, mix with some farfalle, whatever you have on hand!)
olive oil
salt
pepper
Drizzle olive oil in a large pot and add the onions, celery and garlic. Let these cook on low heat for about ten minutes.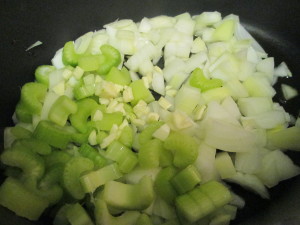 Add the rosemary sprig and let this cook on low for another 20 minutes. You want the vegetables to soften, but not brown.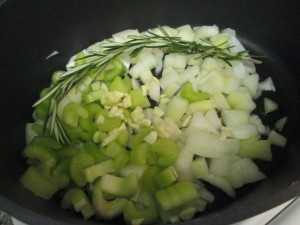 Remove the rosemary sprig and add the rinsed and drained chick peas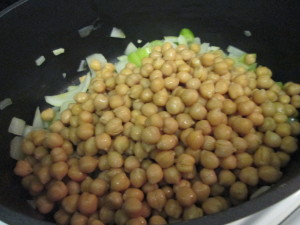 Pour in enough chicken broth to cover the mixture (I used just shy of a 32oz container). Let this cook on low for about 30 minutes, uncovered.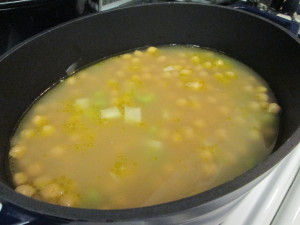 Now, using a slotted spoon, remove a few scoops of chick peas. It's okay if you get some celery and onion. Set aside in a bowl.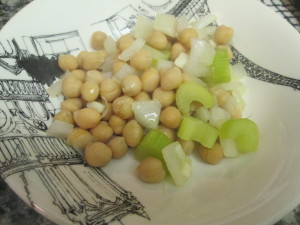 Using an immersion blender, puree the remaining contents of the pot.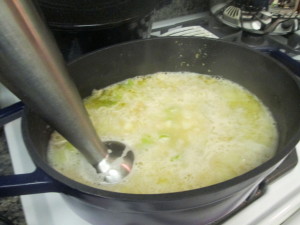 It's going to look a little thin and soupy, but fear not.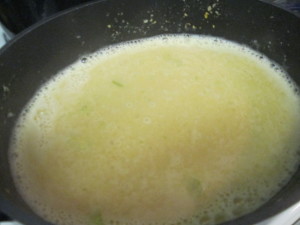 We're going to add in our pasta, and the starches from the pasta will thicken this soup up into a hearty dish.
I used about 1/4 of a box of farfalle and 1/4 of a box of mini penne – that's what I had in my cabinets.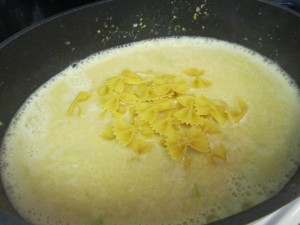 Add the chick peas you removed back into the pot and let the mixture cook for about 15 minutes, or until the pasta is cooked.
The starch from the pasta and the chick peas will create this rich, velvety, creamy sauce around the pasta noodles. This dish tastes like it's loaded with butter and cream, but it's really just the ceci doing all the work!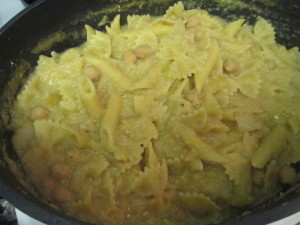 Dish up in big bowls, and drizzle with a touch of olive oil before serving.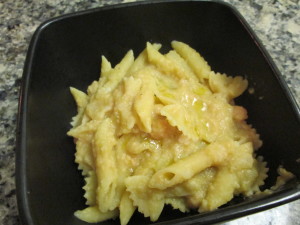 If we close our eyes and take a bite, the New York City skyscrapers are replaced by the sun melting into the sea and the siren's wails and beeping horns are transformed into the gentle hush of waves lapping the shore…