Last month we took a quick trip to Austin. Music City USA! Home of fantastic dive bars, endless options for live music and barbecue.
The barbecue was insanely delicious. Pulled pork, brisket, ribs. There was definitely a meat coma.
But as good as the meat stuffs was, I can't say it was my favorite thing, or the best thing or the thing I am going to crave from this trip.
I'm a sides girl. Pinto beans, cole slaw, potato salad. These are the best parts of getting good barbecue. But the absolute best of the best was the green chili mac and cheese we had at Roaring Fork.
We weren't interested. The waitress told us to trust her.
And boy am I glad we did.
I make a pretty mean mac and cheese. SO I had to try and make a green chili version that would at least come close to satisfying the craving for the one at Roaring Fork.
So I took a basic mac and cheese recipe and amped it up with some green chilis.
For this recipe you will need:
2 cups of milk
1 small can of green chilis
1/4 cup butter
1/4 cup flour
8 oz sharp white cheddar, grated
1 pound pasta, any shape (i used mini shells)
Optional, crushed crackers
Preheat the oven to 400.
Basic mac and cheese starts with a roux. Butter, flour and milk.
You melt the butter and add the flour, whisking, and cooking out the raw flour taste.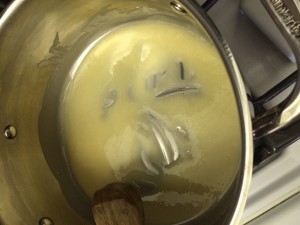 Then you add the milk. And here is where this becomes green chili mac and cheese.
Into a blender goes the milk and the can of green chilis. Blend. You will now have green chili milk.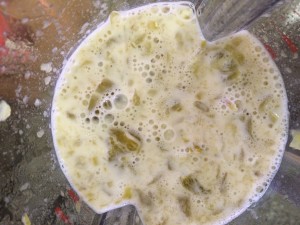 Add to the butter and flour slowly. And whisk until it starts to thicken.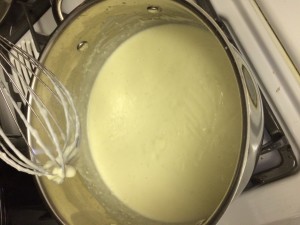 Meanwhile, bring a pot of water to a boil and add in your pasta. Cook according to package directions, drain and set aside.
When the milk and flour mixture has thickened (it should coat the back of a spoon) add in your cheese and stir until it melts.
Remove from the heat. Dump in the pasta and stir until it is all coated.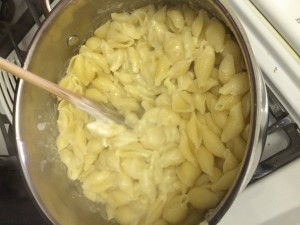 Pour into a greased 9×13 baking pan.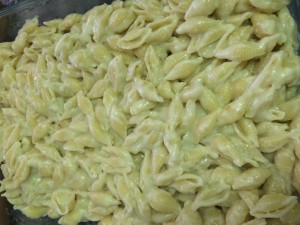 This next part is optional but recommended. Take half a sleeve of crackers (I used Ritz), place them in a bag, and whack away until you have crumbs.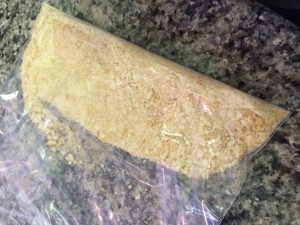 Sprinkle atop the mac and cheese in the baking dish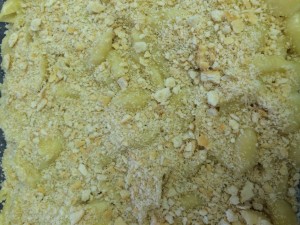 And bake for 20-30 minutes. The crackers will turn golden, the cheese will melt and bubble and it won't turn orange. I don't know what happened to the lighting there. Sorry guys.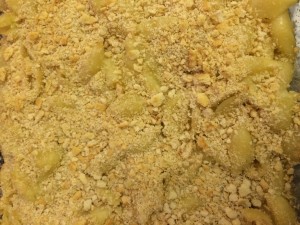 You get the warmth from the heat of the chilis and the smooth creaminess of the cheddar.
A match made in mac and cheese heaven.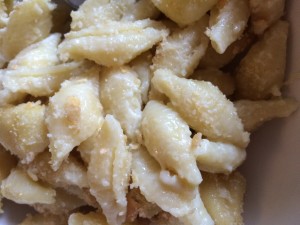 Trust me. You won't miss the brisket when you have a big bowl of this for dinner.