I just told you about the smells of meme's kitchen.
So I bet you were expecting some hummus or tzatziki, or at the very least, some couscous or rice pilaf.
But, instead, I'm giving you something decidedly un-mediterranean, un-French, and un-meme.
But something that I hope you will nonetheless find yummy.
It's unseasonably warm here in New York today. Spring seems to be in the air. Though I know Thanksgiving is around the corner.
But I'm cooking to today's weather rather than to the fall season. And warm days always has me thinking of spicy Mexican and refreshing beers.
I think it's the perfect Monday Night Football combo. And a darn good Meatless Monday option.
So.
You will need
1/2 a white onion, chopped
2 green bell peppers, chopped
1 can black beans, rinsed and drained
1 can of corn, drained
1 jar of salsa
toppings such as avocado, cheese, Greek yogurt and lime
In a large pot, drizzle olive oil and sautee the onion.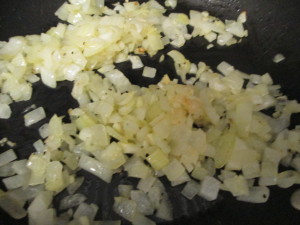 When the onions are translucent, add the peppers and the black beans. Let these cook together for about ten minutes, or until the peppers soften.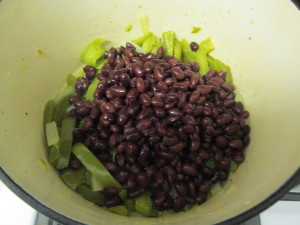 Next, add the corn and give the pot a big stir. Let the corn warm for a few minutes.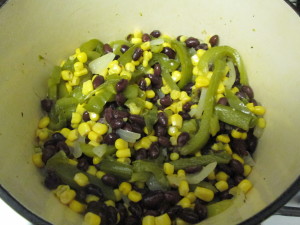 Add in the jar of salsa. If you like things spicier, go for medium or hot salsa. If you want to keep it on the tamer side, go for mild. Let the veggies bubble together for about 10 minutes or so.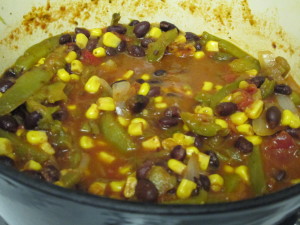 Serve up big bowls and top with avocado slices, Greek yogurt and a sprinkling of cheese.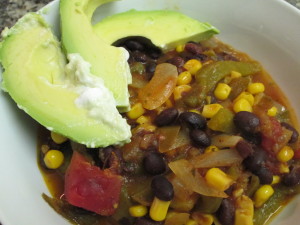 Crack a beer and watch the Patriots take on the Panthers.