Coming to you from mom's not so itty bitty, just outside of the city, kitchen.
Since it was Easter, we spent the weekend at my parents' house.
Since it was Good Friday, we couldn't make our usual Friday night pepperoni pizza and salami bread.
The pizza was no problem- just lose the pepperoni and there you have Good Friday ready, meat free dinner.
But what to go with it?
Salami bread without the salami is just bread.
Bread…
How about take some bread and stuff it into peppers?
Italian stuffed peppers and pizza? Perfect Friday night dinner.
You will need
cubanelle peppers
bread, any kind will do, leftover rolls, white bread, whatever
Italian seasoned bread crumbs
olive oil
vegetable oil
Wash the peppers, cut off the tops and remove the insides.
In a bowl, loosely tear the bread. We made four stuffed peppers and used 7 slices of white bread. The amount of bread will depend on how big the peppers are. Worst case scenario? You start stuffing peppers and run out of stuffing and make some more.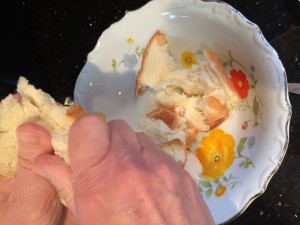 To the sliced bread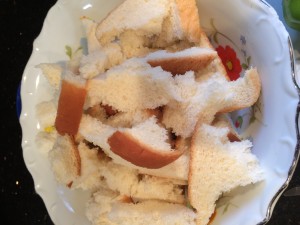 add about 1/4 cup bread crumbs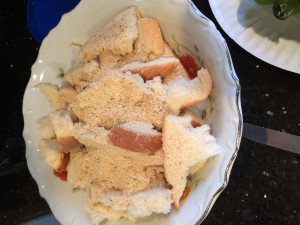 and drizzle in 1-2 tablespoons of olive oil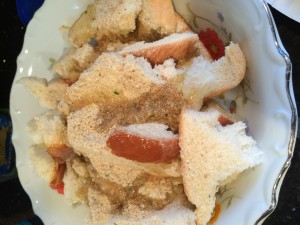 mix and add more oil or bread crumbs as needed. you want a moist but not oily mixture.
Take your hollowed pepper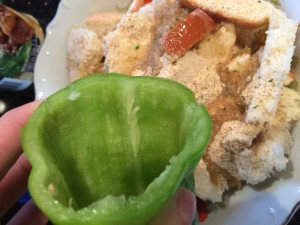 and start stuffing, making sure to push the bread all the way down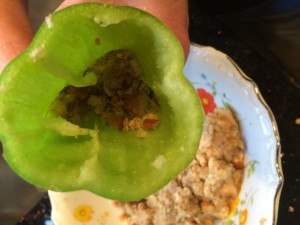 and stopping a bit from the top. If the pepper is overstuffed, the filling will fall out when you are trying to fry the pepper.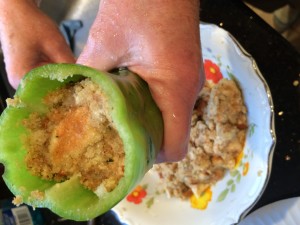 place your stuffed pepper in a skillet with enough vegetable oil to coat the bottom of the pan.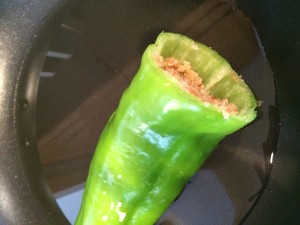 Stuff your remaining peppers and place in the pan.
Cook over medium heat for about 20 minutes total, turning the peppers so they are cooked on all sides.
You want the skin to get nice and blistered and the filling to get crispy.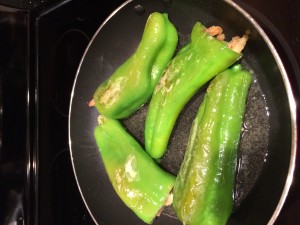 The perfect light dinner with a big salad or the perfect accompaniment to Friday night pizza!