I grew up in an Italian house filled with good smells.
Mom's meatballs simmering on the stove Sunday morning and into the afternoon, cooking in the gravy (it's gravy not sauce) that becomes richer and deeper and tomatier as the hours go by.
Grandma Grace's kitchen with peppers and eggs and garlic popping and cracking in the oil in the frying pan, waiting to be covered with the liquid golden eggs whipped with heavy cream.
Grandma Helen's so good you want to eat the whole thing banana cream pie that requires patience I didn't think I possessed and that fills the whole house with smell of butter and vanilla that wraps itself around you like a hug.
Dad's chocolate chip cookies that always taste better when he makes them and that have been Christmas morning breakfast since I was a kid.
Then I moved out on my own. And got a tiny kitchen.
But I still want it to be filled with good smells.
This a collection of some of my favorite smells and tastes.
And they all come out of this itty bitty city kitchen.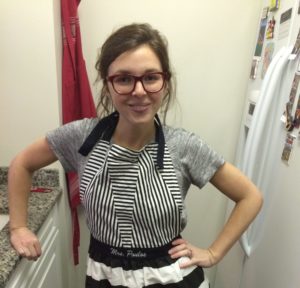 (See the itty bitty-ness of the kitchen? elbows touch the counter and the fridge)