My dad's mom had six kids, never had a driver's license and was an amazing cook.
Odd facts to give you, I know, but it helps paint the picture.
She had six kids, so had a lot of mouths to feed.
She also did not have a driver's license so couldn't run out to the store whenever. This meant
a. she had to use what was on hand
and
b. she was home all day and had a lot of time while the kids were in school
Every Monday during football season she made cinnamon rolls.
Every Monday.
I really only bust this recipe out for the holidays because
a. it's a bit labor intensive
and
b. it's not really itty bitty city kitchen friendly.
But for Christmas, you need cinnamon rolls. And so I turn the dining table into a dough rolling station and get flour all over the living room floor.
I've actually posted this recipe before. But I confess that I actually spent some time tweaking it.
GASP
I know. I know.
You don't mess with grandma's recipes.
BUT! remember what I said a little while ago? Using what was on hand?
Well, Helen always had margarine and crisco on hand but did not always have butter. So her original cinnamon roll recipe was made with margarine, but I tried it with butter. And oh my goodness are they so much better!
So here is the revised cinnamon roll recipe.
1/4 cup sugar

1 teaspoon salt

1/4 cup butter, room temperature

1/2 cup scalded milk

1 package dry yeast

1/2 cup warm water

3 and 3/4 cup all purpose flour

1 egg, room temperature

extra margarine for greasing the dough

2 tablespoons melted butter for brushing the dough

cinnamon

brown sugar
For the glaze:
1 cup brown sugar

6 tablespoons butter

4 tablespoons hot water
Okay. To get started combine sugar, salt, butterand scalded milk in a large bowl.
Scalded milk is milk heated to just before boiling.
 Dissolve the yeast in a half cup of warm water
When the yeast mix is lukewarm, add it, half the flour and the egg to the sugar, butter and milk mixture.
Continue to stir and incorporate the flour until all of it has been added.
Turn the dough ball out onto a floured surface and knead for a few minutes.
Grease the dough ball with butter, then place back in the bowl, covered with a towel in a warm place.
Let the dough rest and rise for 1 and a half hours.
It will double in size.
Then, punch the dough down, cover and let sit for another 15 minutes. It will rise a bit again.
Now we are ready to get rolling! Preheat the oven to 350.
Flour your work surface. Here's where the dining table comes into play in our house.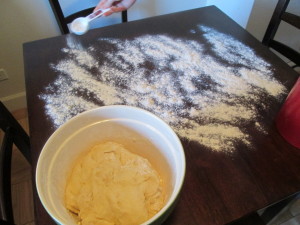 Roll out the dough into a rough rectangle. We're going to roll it up like a jelly roll so you want it to be fairly thin.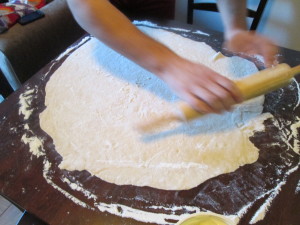 Brush the dough with melted butter and sprinkle with brown sugar and cinnamon. Be generous.
Starting at one ed, carefully roll it up.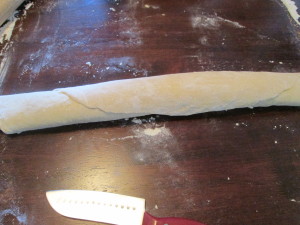 Leave the dough to sit for a minute while we make the glaze.
In a sauce pan, heat one cup of brown sugar and four tablespoons of hot water, stirring until the sugar is dissolved.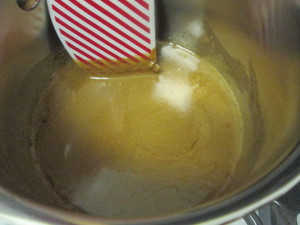 Add 6 tablespoons of butter and stir until melted.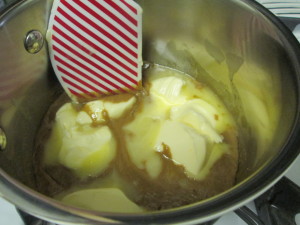 Pour this sauce into the bottom of a greased 9×13 baking tray.
Stay with me on this one.
Slice the cinnamon roll log up – I got 16 rolls out of this dough – and place the slice rolls in the tray on top of the sauce.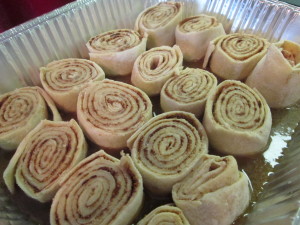 Bake at 350 for 20-25 minutes. The rolls will absorb the glaze and will puff up.
Let them sit for about 5 minutes so the glaze sets up on the rolls.
Flip.
Enjoy!
Here's a side by side pre flip so you can see the difference between the butter and the margarine. The left is butter and the right is margarine. The left one just got puffier and fluffier. And let's face it, buttery-ier. Which is always more betterer