The best pad thai ever? Where'd you get it? Some fancy Thai place in the East Village? Random hole in the wall take out spot in midtown?
No and no.
My kitchen.
Prepared by my Greek Armenian husband.
He has a knack for Asian cooking.
I guess I'll keep him.
For pad thai you will need:
noodles, any kind works- i like brown rice ones
1 shallot, minced
2 eggs
brown sugar
soy sauce
rice vinegar
sesame oil
chili oil
scallions (optional)
chopped peanuts (optional)
pea shoots or sprouts (optional)
Start by cooking your noodles according to package directions. Drain and set aside. The key to pad thai (or any Asian dish really) is having everything chopped and ready to go as the cooking process goes pretty quick.
In the same pot you just cooked your noodles, add some sesame oil and the shallot.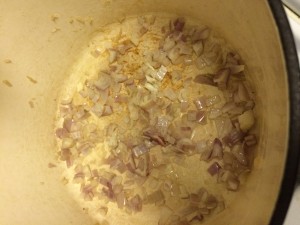 When the shallot is softened, add a bit more oil and then pour in two beaten eggs (think like you're making scrambled eggs.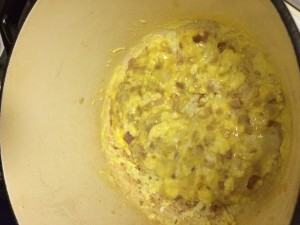 Keeping an eye on your eggs and stirring occasionally, in a bowl mix together 1/8 cup each of brown sugar, soy sauce and rice vinegar and a little less of the sesame oil. Add chili oil to taste (it's really really hot, so be careful).
Ok when your eggs are done, add the noodles and the sauce to the pot and stir.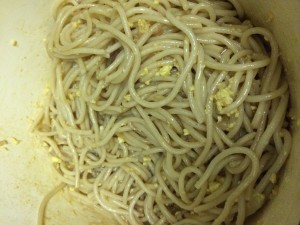 Add in your pea shoots or sprouts and stir again.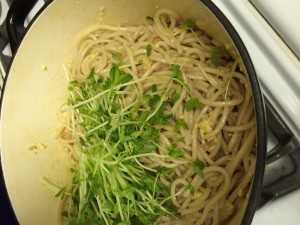 Dish up into bowls and top with scallions and peanuts, if you choose.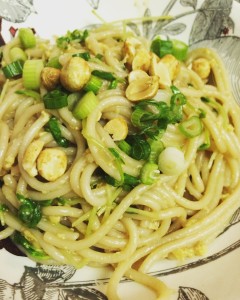 Lose that place down the street's number and forget about waiting for your takeout delivery ever again.