Is there any dish that says spring more than Pasta Primavera?
I mean, it screams Spring!
Fresh vegetables tossed in pasta, lightly seasoned, after months of heavy starchy foods. Vibrant greens burst in the bowl…
Plus, you know, primavera means spring in Italian.
For primavera, you can use whatever fresh, springy vegetables you wish, which is one of the beauties of this dish. Tailor it to your tastes and to what looks the best when you go to the farmer's market.
The basil smelled utterly delicious, so I decided to make a pesto to top my pasta, sauteed asparagus and mushroom concoction.
Pesto is super simple to make. See my recipe here, use your favorite recipe, or use store bought.
I'm going to make this dish in one pot, so bonus points for less dishes to do.
Start with a frying pan with high sides- mine's about 4-5 inches high.
Drizzle some olive oil and add sliced mushrooms and asparagus spears that have been cut into one inch chunks.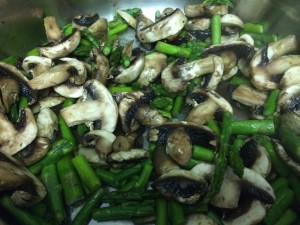 Cook over medium heat for about 10 minutes, until mushrooms are browned and asparagus is softened. Season with salt and pepper.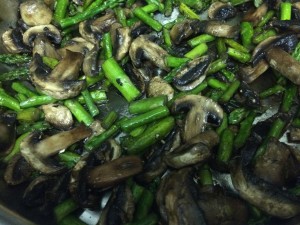 Dump the mixture into a bowl, and place off to the side for a bit. Fill that same pan with water, about 2 inches high and bring to boil. The water will pick up the bits of asparagus and mushrooms and infuse the pasta with the flavors.
When the water is boiling, dump in your pasta. Use whatever shape you like, as long as it is one of the shapes with lots of nooks and crannies for pesto to fall in. Farfalle are great, penne rigate (that means with ridges, not the smooth ones). I used Campanelle, which means little bells (which is what the pasta looks like).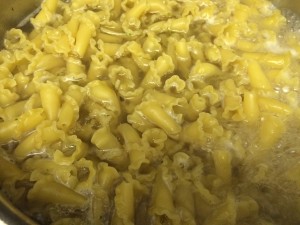 When the pasta is cooked, drain and then pour back in the pot. Add the pesto and mix well.
Add the asparagus and mushrooms and mix again.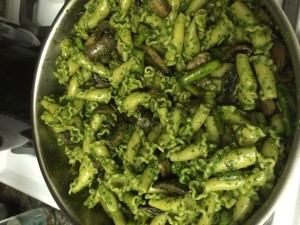 Serve up in bowls and top with parmesan.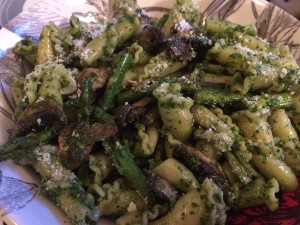 This makes great leftovers and can be eaten warm or cold. Would love to find this in my lunchbox or picnic basket!