I so totally left you guys hanging there!
In my last post, I promised you 2 recipes from 1 store bought rotisserie chicken. I gave you the soup and then, poof, I vanished.
Sorry about that, guys!
I promise you it was worth the wait!
I mean, look at that glorious pile of barbecue chicken and side of sweet potato fries!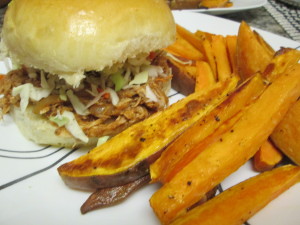 This recipe is super easy, and super perfect for a cold, rainy day. So if you're in the Northeast and getting hit by winter storm Damon, get ready for a cozy dinner to curl up with.
Okay, remember the chicken hubs shredded?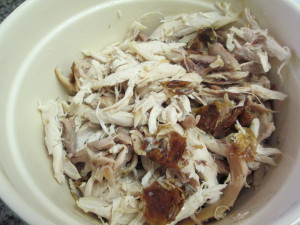 Well, it is the star of today's show.
Get the show started by slicing a medium white onion and dropping it into a skillet with a drizzle of olive oil. Cook until softened.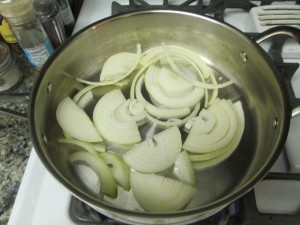 In the meantime, pour some store bought cole slaw mix (it's with the salad stuff – a bag of shredded cabbage and carrots) into a bowl and add a splash of apple cider vinegar. Pop in the fridge to chill. The cabbage provides a nice refreshing crispness, and the apple cider vinegar cuts through the fatty richness of the barbecue chicken.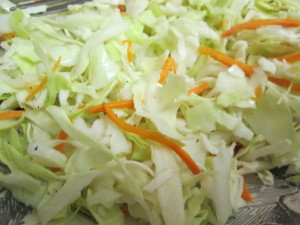 When the onions are nice and browned, toss in your chicken. A few handfuls, depending on how many sandwiches you're making.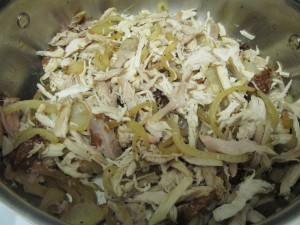 Give it a big stir and let the chicken and onions cook together for 5-10 minutes.
Next, add a few tablespoons of your favorite barbecue sauce and stir.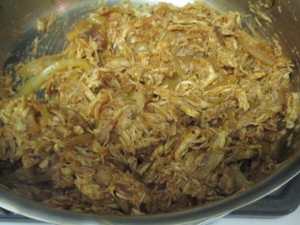 Let this cook together for another 5 minutes or so.
Then, assemble your sandwich!
Pile high with chicken, coleslaw and some avocado slices.
Add some extra barbecue sauce if you like things saucy ; ).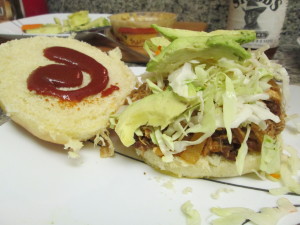 Lid on and enjoy!