Oh the weather outside is frightful!
No snow as of yet, but I think a high of 25 degrees warrants the term frightful.
When it's cold like this all I want to do is hang out in my warm kitchen and make something yummy, warming and comforting.
We started talking about some of the classic holiday episodes of shows when we were kids and the Garfield Christmas came up. Remember, John and Garfield and Odie pack up and leave the city for a good old fashioned Christmas down here on the farm? That's the song I remember most from the show. If you don't remember it, here it is in all it's glory.
Anyway, where am I going with this?
When you think Garfield, what do you think of?
Yup.
Big trays of lasagna.
So that's what's for dinner tonight. It's warm, it's filling, it's the perfect thing to curl up with, especially when you add some red wine and some Christmas music.
Lasagna is actually pretty easy to make. There are just a number of steps that make it seem like a process. But it's relatively quick assembly and really basic ingredients.
You will need
Lasagna noodles
15 oz ricotta cheese
mozzarella
parmesan
marinara (homemade or jarred)
1 egg
You'll notice the absence of meat. I'm not a big fan of meat in my pasta. I'd much rather have a meatball on the side. So, sorry carnivores, this is a very cheesy but meat free lasagna.
Start by bringing a big pot of water to a boil and preheating the oven to 400 degrees.
When the water's at a boil, drop in your lasagna noodles. I do three layers of noodles in a 9×13 pan so I boil 9 noodles. If you're using a smaller pan or you want more layers, you will have to do some noodle math. Just figure out roughly how many noodles are needed to cover your pan width wise.
While the noodles cook, combine the ricotta, one egg, some parmesan and lots of black pepper to a bowl. If you want to multiply this recipe, just use one egg for every 15 oz container of ricotta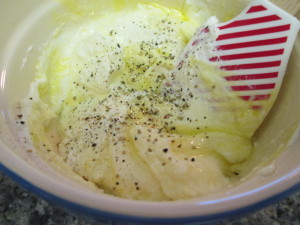 When the noodles are ready, drain and set aside to cool.
Get your pan and cover the bottom with a layer of marinara.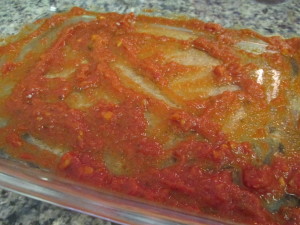 Then add a layer of noodles.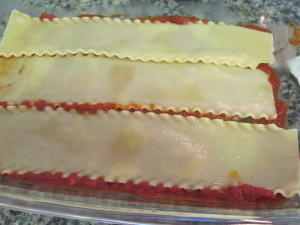 Then add a layer of the ricotta mix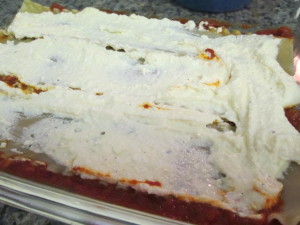 Followed by another layer of noodles, cheese, noodles. Top the final layer of noodles with more marinara and some shredded mozzarella.
An extra sprinkle of parmesan never hurt either.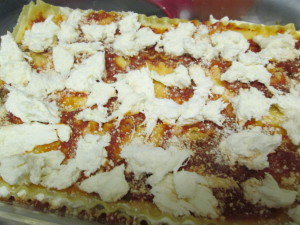 Bake for about 30 minutes. The cheese will be bubbly and some of the edges of the pasta will be a little browned.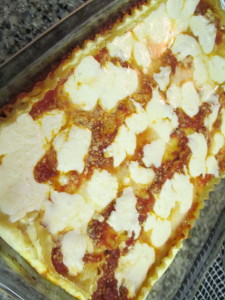 And you will have three glorious layers of lasagna to eat your way through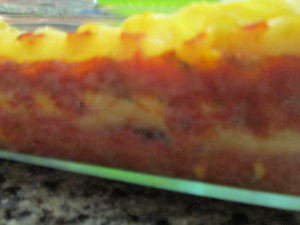 as you try and get "Good old fashioned Christmas" out of your head