Every good Italian knows where to go to get a good sausage and pepper sandwich.
The boardwalk at the Jersey Shore, the Feast of San Genaro, and your grandma's kitchen.
Because if you're a really good Italian, your grandma or your mom makes the best sausage and pepper sandwich! How dare you even think of comparing something from the boardwalk to hers!
And you know what, it's easy enough to do at home that you should be making a big 'ol pot and having your friends over.
This recipe is enough for 4 sandwiches. Multiply as necessary.
You will need
1 large white onion, sliced
4 bell peppers, chopped (I used green and yellow but use what you prefer)
2 links hot Italian sausage
2 links sweet Italian sausage
Olive Oil
Italian bread
Provolone cheese
Get out the big pot and drizzle in some olive oil. Toss in the onions and peppers.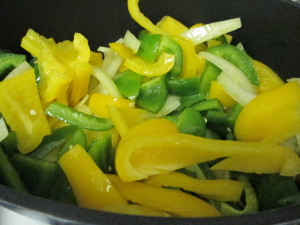 Let these cook over medium until the onions start to brown and the peppers are soft (about 20 minutes)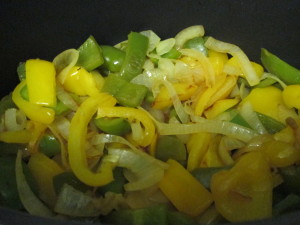 Cut your sausage up into small one-inch or so bite-sized pieces. It's easier to build a sandwich when the pieces are smaller. When the onions and peppers are cooked, toss in the sausage.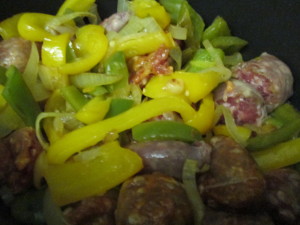 You want to nestle the sausage in amongst the peppers and onions so that the sausage can get browned by the bottom of the pain and pick up all the brown bits the onions left behind.
I use a blend of sweet and hot sausage because I like the depth of flavor. All hot is too hot for me and all sweet is just a little boring. Both is just right! Says Goldilocks.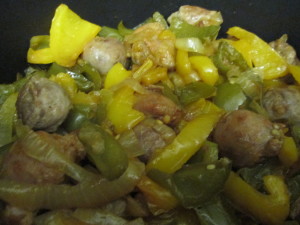 You want to turn the sausage occasionally so it cooks on all sides. It takes about 20 minutes to get it all browned and cooked through. During that time, the onions and peppers melt into the sausage and the oil and fat from the sausage drips over the onions and peppers. Heaven.
Slice up a piece of bread. Pile high with sausage and onions and peppers.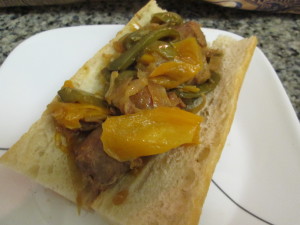 Top with a piece of provolone for some extra indulgence.